Reviews from our Customers
We have received so many wonderful letters and comments from our customers that we only have room to print some of the material. We really want to thank everyone that took the time to write us and tell us their stories on how the video has helped them.
"Excellent Video! Easy to Understand! This video should be included with each new pool!" Chuck Meyers – Home Owner
"Great Tape! Pool Care can be confusing but with this video I really got a handle on how to properly care for the pool. Learning from a video is the only way to go. It's easier to understand and great tool to refer back to when I need it. I highly recommend this tape to any pool owner." Hamid Homand – Homeowner
" I didn't realize what a great tape this was until I popped it in my VCR for the first time. The tape is very informative! The instructions you give are very easy to understand. This tape is very high quality, I'm One Satisfied Customer!" James E. Norris – Home Owner
"You can't imagine how relieved we were when we found the Imagiforce Pool Care Video, "Tips from the Pros". Your video gave us the information we needed with clear and logical directions for pool care. It is especially helpful to actually see the tests performed, the cleaning demonstrated, and the possible problems tackled in a pool setting instead of learning from a manual. We told our builder that this video should be required viewing for all their pool customers, beginner and experienced.
We plan to watch the video many more times so we can take proper care of our investment. We feel very confident knowing that if a problem comes up, we can go to the appropriate section of the video to solve it or to find out if the help of a professional is needed. Thanks to your video we will be able to relax and enjoy our pool right from the start!" Joe and Diane Heintz – Homeowners
Pool Builders, Retailers & Service Companies
"We love the tape and include it with our pool packages. The tape is a great teaching tool we use it in our seminars on pool care". Ultra Modern Pools – Rita Rowlen (Pool Supply store, Pool Service Company and Pool Builder)

"I include this video with each new pool, its a terrific tape!, I had found out about it from another pool builder" Dennis – Tropic Isle Pools (Pool Builder)
"Tips from the Pros really sets us apart in the marketplace. It not only adds to our professional image but it eliminates costly callbacks. Our customers love it, they feel we really do care about their pool even after we're done with the job." Bill and Shaaron Phillips – Century Pools of Clearwater (Pool Builder)
Mid Florida Pools – Orlando Florida's Leading Pool Builder
"We've been including this video in our pool packages and it has proven to be an excellent source of information for our customers. We have virtually eliminated all our unnecessary callbacks. We're thrilled with the results. We have 110 employees and build pools for over 30 Home Builders so the less time we spend answering the same questions over and over saves us a lot of time and money. Our Customers love the fact they get a video with their new pool." Rick of Mid Florida Pools – Orlando Florida (Pool Builder serving 30 Home Builders)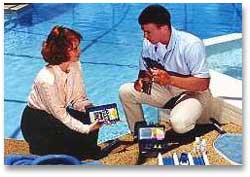 R.D. Markert Pools – Leading Builder for US Homes
"We build hundreds of pools per season so we are very conscious of quality and customer satisfaction. This tape has been enormously successful in cutting down on our customer callbacks. We're including one with every pool that we build." Fred Markert – R.D. Markert Pools (Pool Supply store, Pool Service Company and Pool Builder, Custom Waterfalls)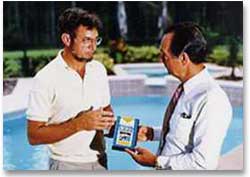 "Tips from the Pros is GREAT!" Our home owners have needed this kind of inside information on pool care for a long time." Carole Deklerow, Exec V.P – U.S. Home Corporation, Tampa Florida
HANNA-BARTELETTA HOMES – ONE OF TAMPA FLORIDA'S LARGEST AND MOST PRESTIGIOUS BUILDERS.
"We have been including the video with each of our new pool packages for over 3 years and we are very impressed with the results. The video is very informative, covering all the important aspects of pool care in a unique, easy to understand format. Our customers love it because learning from the video is much easier than verbal or written instructions and they appreciate the fact that it's completely non-commercialized. Also providing them with this constant source of reference they feel a lot more confident in caring for their new pool.
It has been very successful in reducing our warranty department's callbacks. We use the video in all phases of training, from the pool builder, to the warranty department, to the consumer. When working with our customers the same consistent information is very important. It's an excellent video and completes our pool packages 100%! " – Mike Bartoletta, President – Hanna Bartoletta Homes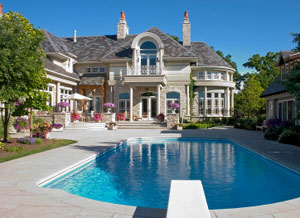 Health Departments & Commercial Pools
"The instructors of our Level 1 Course were excited to have available the "Tips from the Pros-Pool Care" video because there are very few productions of this quality and informational content available for teaching aids." Dwayne Djkowich, CPHI – Public Health Inspector
"Our local health department uses the same video for training their in-house staff and introduced it to us. Its ability to deliver consistent, technically accurate information, in an easy to understand format, (everyone can relate back to), is invaluable." – Bob Henson, Chief Engineer, Great Smokies Hilton
"This video is used by our department in training pool inspectors and as part of our CPO training courses. "Tips from the Pros-Pool Care is an outstanding training aid. It's clear, unambiguous, and provides the "pictures that are worth a thousand words." We would recommend it as part of all commercial pool packages." – J. Luke Hause, Dept of Health and Environment, SC
"Tips from the Pros"- Pool Care Video is the most complete and in-depth video I have seen in my 7 years of pool service. It takes out all of the confusion with its step by step details of pool care and gets right to the point with all aspects of pool maintenance and safety. I use the video not only for myself but my staff as well who find it very knowledgeable and easy to follow. – Noe Arriaga – Chief Engineer, Days Inn Hotel, Bakersfield CA
"My Compliments to you, Its a great tape! I work closely with nearly 200 resorts all over the Hawaiian Islands and with constant personnel changes I am kept quite busy with training the staff on proper pool care. This Tape has been invaluable to our company and makes my job so much easier!" – Karen Jones, Commercial Consultant