"Tips from the Pros" – Pool Care Video
Designed to help the pool professionals as well as pool owners.
Swimming pool builders and home builders are including the video with each new pool they build. This practice has not only proven to cut costly callbacks for the pool professional, but has also created a more satisfied customer and helps solidify the builder's high quality image.
There is no doubt customers love learning from a video and can retain more of the information!
The customers new pool is not only an investment, it is usually covered by the builder under a warranty, teaching the customer how to properly care for their new swimming pool is a must.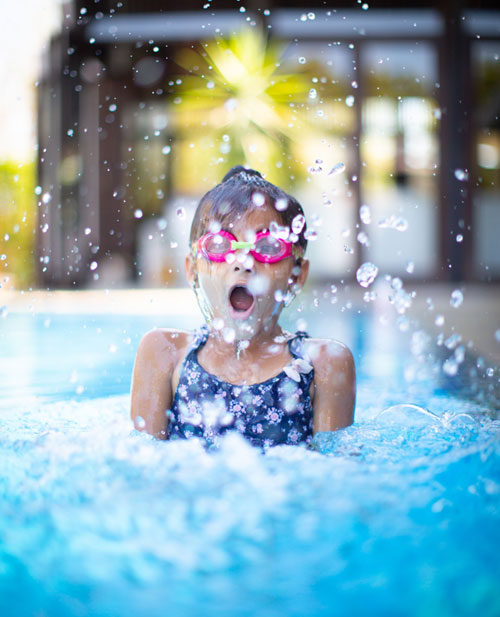 Swimming Pool Builders, Retailers & Service Co's.
Top Reasons Pool Builders are including Tips from the Pro's Pool Care with each new Pool
Proven to reduce both the warranty department and pool builders unnecessary callbacks up to 95% when included with each new pool. Builders agree that callbacks are lack of customer knowledge. The video answers the most common questions, even giving them steps to perform BEFORE calling the builder.
Increases credibility and trust in your company. This top quality video has been technically approved by the leaders in the industry and has a proven track record. The video is now being recognized as the #1 source for pool instruction by the swimming pool industry, as well as # 1 choice for health departments.
Provides a consistent message that takes much of the confusion out of pool care. Consumers number one complaint is when asking 10 different pool professional the same question, they often get different answers. It's not that the information is wrong, the problem is the pool professional is trying to put technical information in laymen's terms they can understand.
Excellent for training seminars and schools your customers. The video is used in seminars by pool stores to better educate the pool owner on how to properly care for their pool. Many pool stores run the video on an in store VCR / TV combo so customers can see parts of the video while shopping.
Reduces liability by properly teaching your customers key items such as safety, chemical usage, application and storage. Builders are even adding a section to their contracts stating the video will be included with the pool and is required viewing by the customer. New Viewer Validation Forms are also available so builders can have customers actually sign a form stating they have viewed the video.
Helps to create more satisfied customers. The pool owners now have an invaluable tool to help protect their investment while giving them more confidence in owning a pool. The customers love the fact that they can relate back to the video whenever necessary.
Video is easier to learn from than verbal or written instructions with higher retention level. This is further backed by Purdue University research, showing that only 18% of verbal instruction is retained by the average person, but when adding visual, it jumps dramatically to over 80%. Remember a picture is worth a thousand words, wouldn't you rather learn from a video than a manual or verbal instructions?
Train your employees and service personnel. The video is an excellent training tool for your staff. Most companies have their employees view the video often during training. You will be amazed at the time and cost savings in training new employees.
Articles Featuring the success of using the "Tips from the Pros" Pool Care Video
"Builders Praise Video for Eliminating Callbacks"
The "Tips from the Pros -Pool Care" video has been part of our standard pool equipment for over 4 1/2 years and its proven to be an excellent source of information for our customers.
Since including this video in each new pool package, we have virtually eliminated all our unnecessary callbacks and we're thrilled with the results. We have 110 employees so the less time spent answering the same questions over and over saves us a lot of time and money. When we build pools we build a lot in one development – we may have 5 on every street. "Those neighbors talk, so if we have one serviceman who says this and another who says that, neither one is incorrect but it's not the same.
The video delivers a consistent message that everyone can identify with – the warranty department, pool builder and the consumer.
Our customers love the fact they can refer back to the video whenever necessary. It definitely takes a lot of the confusion out for pool care for the new pool owner.
Central Florida's largest Pool Builder
serving over 30 Home Builders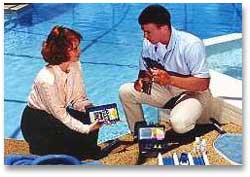 Rick of Mid-Florida Pools, gives video to new pool owner during start up instruction. (The video is now standard equipment for major home builders and Pool Professionals).
Lack of Customer Knowledge Costs Builder
Ironically, the life of a swimming pool and its equipment depends largely on the care given by the consumer rather than the builder's expertise in installing it. Pool professionals nationwide complain that they are frequently called up to correct problems caused by customer error- improper balance, etc.
Since a satisfied customer is the best form of advertising, builders will even resurface a new plaster pool, (that was stained due to the customer's costly mistakes) or replace equipment to retain their reputation in the marketplace.
Increasing numbers of successful builders across the nation are including "Tips from the Pros- Pool Care in their new swimming pool packages.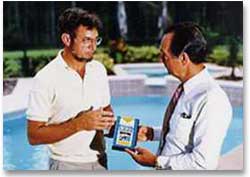 Fred Markert of Markert pools, who builds hundreds of pools per season – primarily for U.S. Home Corporation, insists, "This tape has been enormously successful in cutting down our customer callbacks. We're including one with every pool that we build."
(Markert Pools is a full service builder with a Retail Store, Service Company and Custom Pool Building Dept.)